Do you want to make your garden always full of flowers which looks attractive, beautiful, and refreshing throughout the year?
Here are the following plants which give beautiful flowers throughout the year and are perfect for any landscape and gardening. By planting these plants you will never be running out of flowers, they look so beautiful, graceful, and elegant that every gardener wishes to have these plants in their garden.
Hibiscus is a very hardy, versatile plant and in tropical conditions, it can enhance the beauty of any garden. This is a perennial and flowers throughout the year, as this comes in a variety of colors, it is a plant that can add vibrancy to any garden. Hibiscus is often used as landscape shrubs and used to attract butterflies, bees, hummingbirds.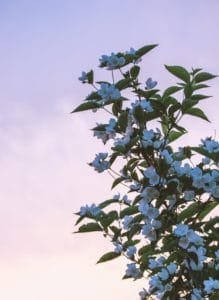 Jasmine is known for its fragrance, it looks graceful and its flowers resemble a silver pearl spreads around the dark green leafy texture. This plant increases the beauty of any garden and Jasmine's scent is thought to be calming and soothing. Sometimes it is also known by the name motiyaa or mograa.
                                                  CATHARANTHUS ROSEUS
It is an ornamental plant appreciated for its hardness in dry and nutritionally deficient conditions, it is noted for its long flowering period, throughout the year in tropical conditions from spring to late autumn, in warm temperature climates, it comes in a variety of colours such as white, mauve, peach, scarlet and reddish-orange. It is also known as Sadabahar(gives flowers throughout the year).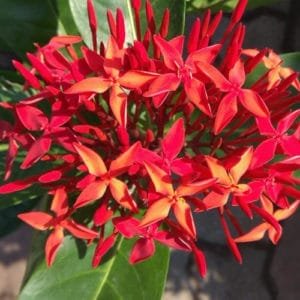 This plant possesses leathery leaves, ranging from 3 to 6 inches in length, and produces large clusters of tiny flowers. Ixora varieties offer a nice selection of flower colors including bright red, orange, yellow, pink, and white, they emerge like puffballs from the evergreen leaves. It flowers throughout the year, each flower cluster can last 6 to 8 weeks giving a landscape long-lasting and lovely color. Ixora loves sunshine and should be kept outside.
EUPHORBIA MILII
Euphorbia milii, the crown of thorns, christ plant, or christ thorn is a species of a flowering plant. It is a succulent subshrub or shrub growing to 1.8m tall, with densely spiny stems. The flowers are small, subtended by a pair of conspicuous petal-like bracts, variably red, pink, or white. It looks elegant suitable for both indoors and outdoor gardening.
Allamanda is a genus of flowering plants. It is an ornamental plant cultivated for their large, colorful flowers. Most species produce yellow flowers; The flower has five lobed sepals and a bell- or funnel-shaped corolla of five petals. They like sunny areas with adequate rainfall. The leaves are opposite or arranged in whorls of up to 5. The blades are generally oval and smooth-edged, and some are leathery or lightly hairy.
ROSA MOSCHATA
Rosa moschata, the musk rose, is a species of rose which has been long in cultivation. Its wild origins are uncertain but are suspected to lie in the western Himalayas. This is about 2-3 inches wide and has a delicate and sweet smell, its aroma has a soothing effect on the body and the mind, they are often used in making cosmetics.